Sometimes patients are apprehensive about chiropractic. We want you to feel comfortable coming to our office, so we invite you to explore our website to learn more about Dr. Carradine's gentle chiropractic methods, all the different therapies and treatments we can provide, common symptoms and conditions we help every day, and how we can help sports, work and auto injuries, as well as children, adults, pregnant women and seniors. When you do come to our office, we always explain everything in advance, so you'll understand exactly what we are going to do before we do it. If you have any questions or concerns, they will also be addressed. We want you to understand what we do, why we do it, and how it can help you get better and reach your optimal health.
---
Your First Visit
As soon as you walk into the door, you'll be greeted by our friendly, compassionate staff, who treat all our patients like family!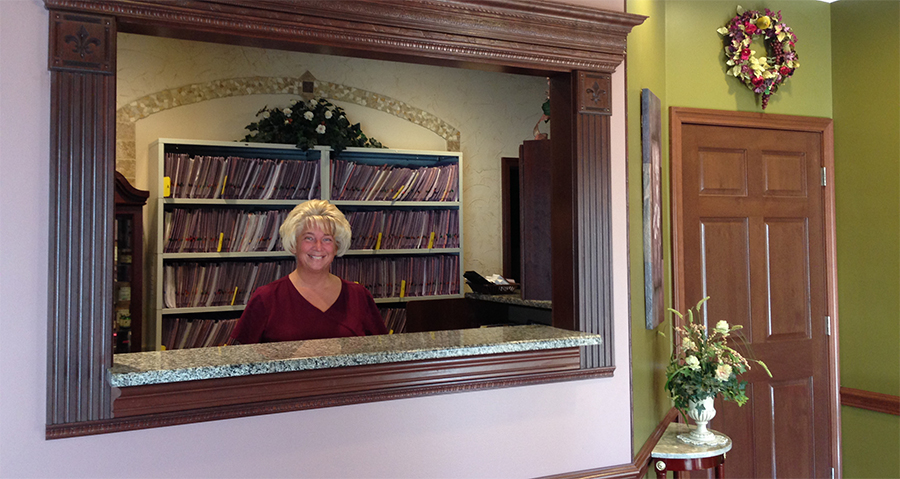 Our patients constantly compliment our staff and are often surprised at how friendly and concerned they are about our patients. We all really want you to get better, and each of us will always do everything we can to make that happen!
Our goal has always been to offer the most effective types of treatment, which are both gentle and safe and utilize modern technology with state of the art equipment to deliver the highest quality of care possible in a kind, caring atmosphere.
You'll love our beatiful office with convenient parking that's also handicap accessible.
We have some brief paperwork for you to fill out if you haven't already completed it through this website . This paperwork allows Dr. Carradine to better assess your problems, as she will refer to it when discussing your history and complaints. We typically will show you a short 5-minute video to give you a better understanding of what to expect on your first visit and provide you with pertinent information. You will then meet Dr. Denise Carradine to discuss your health problems and find out how she can help you attain your health goals.
The Consultation Allows Us to Find Out More About You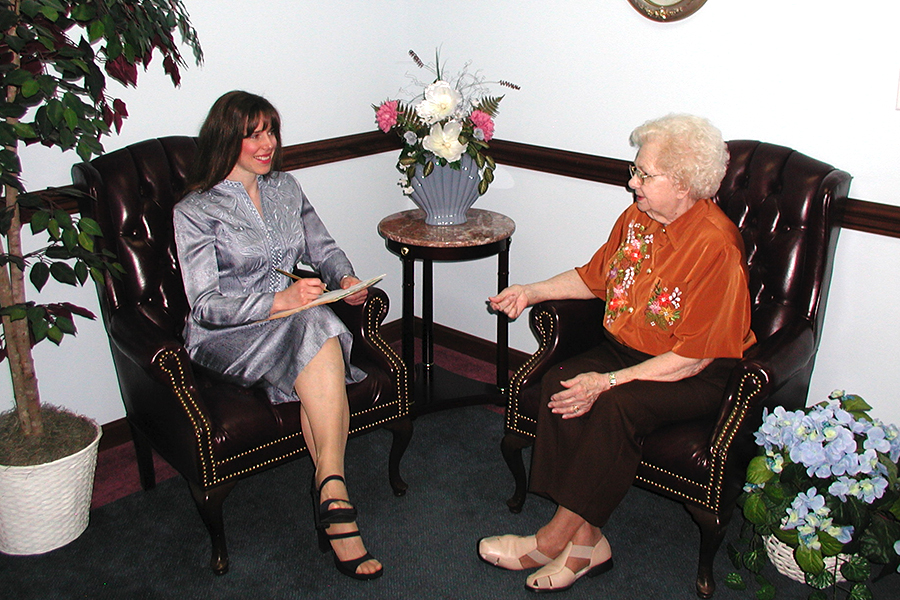 Dr. Carradine will conduct a consultation with you to find out more about your health problems, discuss your concerns, and your heatlh goals. If she determines that chiropractic, acupuncture, spinal decompression or any of the many services we offer are likely to help you, she will proceed with a thorough examination including orthopedic, neurological, range of motion, and chiropractic tests. The examination will help her find the cause of your problem, so the appropriate treatment for you can be administered. Following the examination, sometimes x-rays or other diagnostic tests are medically necessary to further evaluate your condition, rule out other more serious conditions or assist in the diagnosis of your problem. For your convenience, we have x-ray and EMG/NCV testing on site. Please feel free to discuss your concerns or desire to have x-rays or other diagnostic testing with Dr. Carradine.
Following the consultation, examination, and x-rays (if necessary), Dr. Carradine will recommend appropriate treatment for your specific condition, based on her findings. If chiropractic treatment is indicated, it can be provided on your initial visit, if desired. Treatment may include gentle spinal manipulation, gentle extremity manipulation, acupuncture, passive therapeutic modalities such as ultrasound, electrical muscle stimulation, laser, hydromassage, intersegmental traction, static traction, whirlpool, paraffin bath, hot packs, cold packs, disc decompression or rehabilitative exercise therapy. Home management instructions are also given. If Dr. Carradine believes that you will not benefit from chiropractic, acupuncture or other services we offer, she will refer to the proper specialist that can help you.
---
Your Second Visit: Report of Findings
After reviewing your history, examination findings, and any diagnostic testing you've had, both at our office and other facilities, Dr. Carradine will recommend care specific to your health needs. She will discuss her findings and recommendations with you during what we call the report of findings. If x-rays were taken on your first visit, she will show you your x-rays during the report of findings and also show you what normal x-rays look like so that you can see the difference. She will answer any questions you have and explain how the care she recommends is expected to help you get better and stay better.
Regular Visits
Your first two visits take far longer than subsequent visits. On your first visit, Dr. Carradine performs a consulation and discusses your health problems with you, she will conduct a thorough examination and sometimes, x-rays are necessary. On the second visit, she will go over all her findings from the first visit with you, as well as her recomendations. She spends a lot of time with you on your first 2 visits.
Regular visits do not require the amount of time that the first two visits did because Dr. Carradine has already determined what you need. We understand that you have a busy life, so we try to get you on your way as quickly as we can. Chiropractic adjustments generally take 5-10 minutes of your time. If you receive therapy along with your chiropractic adjustment, most therapies are about 10 minutes each. Acupuncture varies with the technique being used.
We understand that your time is just as valuable as ours, which is why we practice a "No Wait" policy on a daily basis. We do NOT overbook patients, as other doctors regulary do. We schedule patients properly to allow enough time for you, so we don't get backed up. While unforeseen circumstances may arise on occasion, our patients typically get taken back to a room immediately after signing in.
We hope that you find our website helpful and look forward to meeting you!

Most of our patients receive some form of gentle chiropractic adjustments (first picture), which typically takes five to ten minutes. Some of our patients may also receive one or more of the many therapies we offer (second picture). Pilates exercises may also be incorporated into a treatment plan (third picture).
We're happy to answer any questions you have or verify your insurance benefits in advance for you. Just give us a call at our Boardman, Ohio office at 330-758-4446!