Virtual Tour of our Pilates Studio!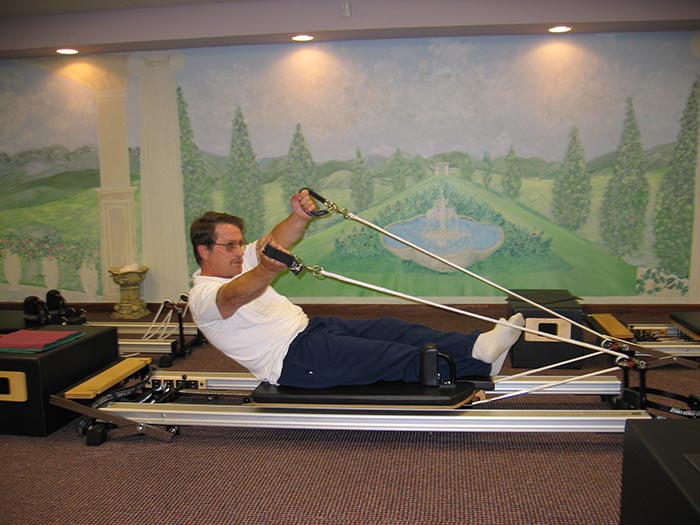 Pilates incorporates core strengthening into every exercise, which is essential for a healthy spine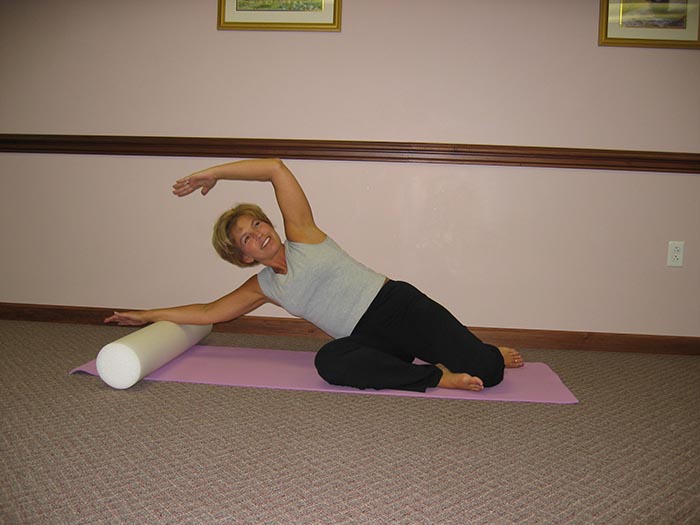 Stretching exercises can be facilitated with small equipment, such as the foam roller.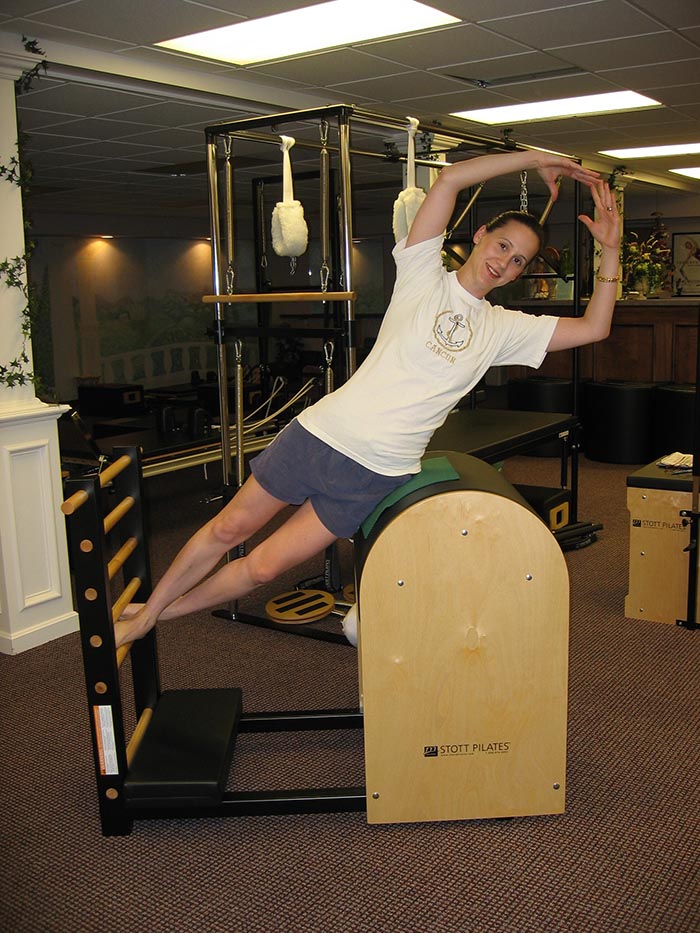 Our patients love pilates! The ladder barrel offers a variety of both stretching and strengthening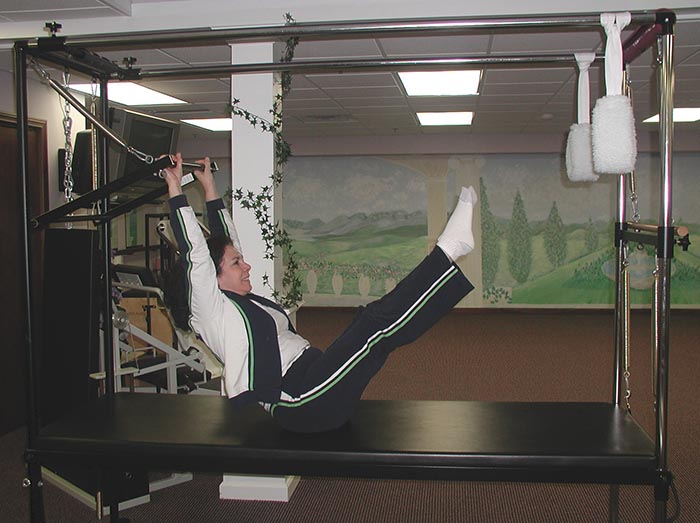 Patients are often surprised at how quickly they progress to more advanced exercises with pilates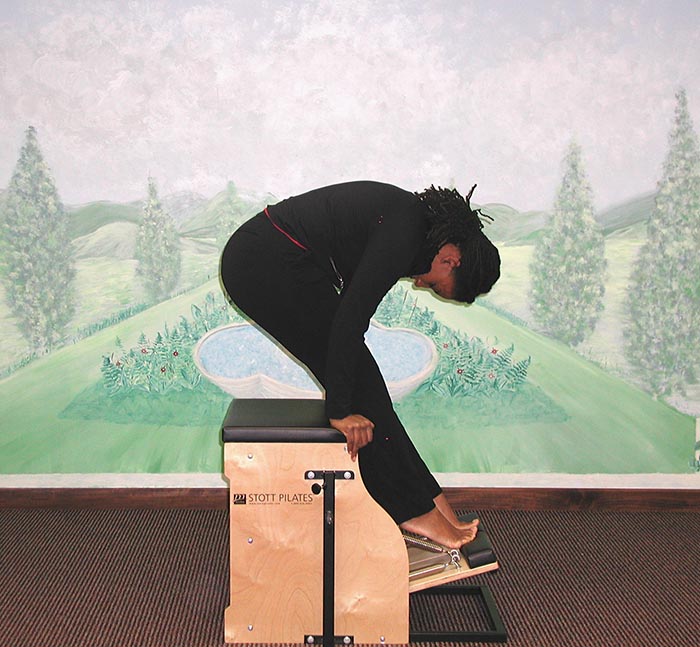 The seemingling simplistic stability chair provides a greater challenge as patients become stronge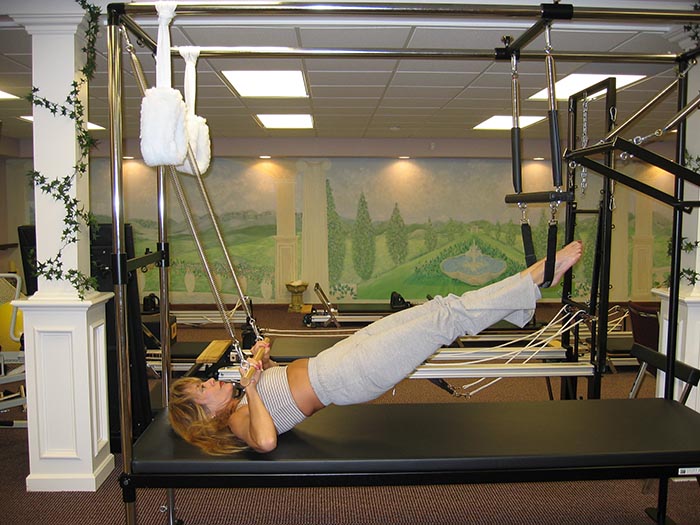 The focus on muscular imbalances due to injury or postural problems makes pilates ideal to train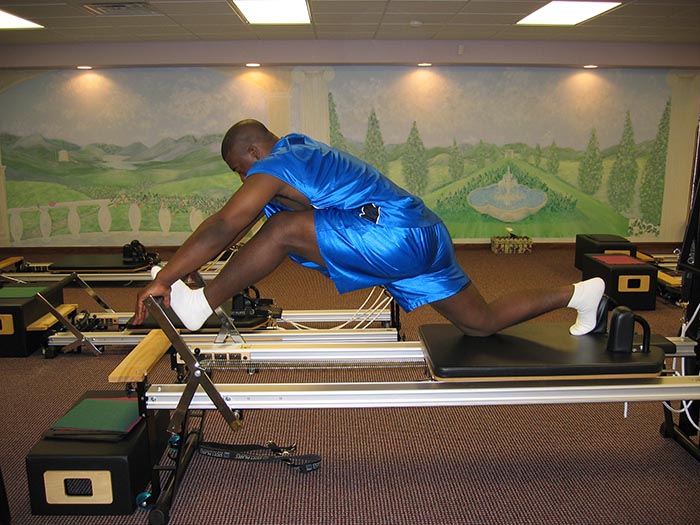 The pilates reformer is highly versatile with over 100 exercises and can safely be used for all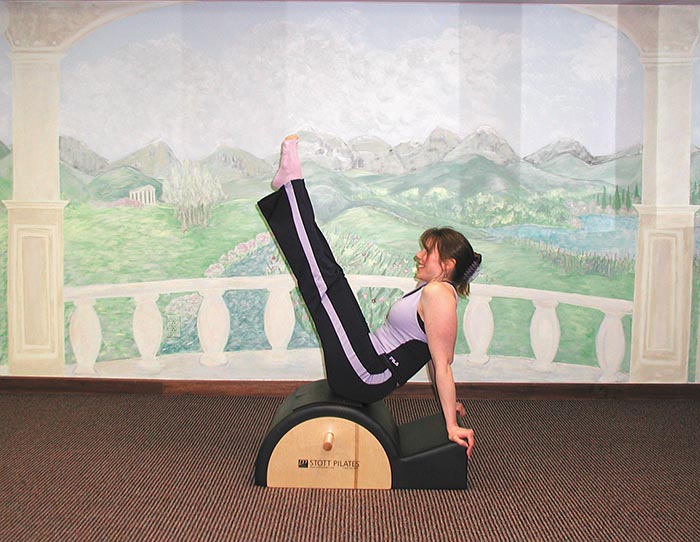 Balance, concentration and control of movements are required on the spine corrector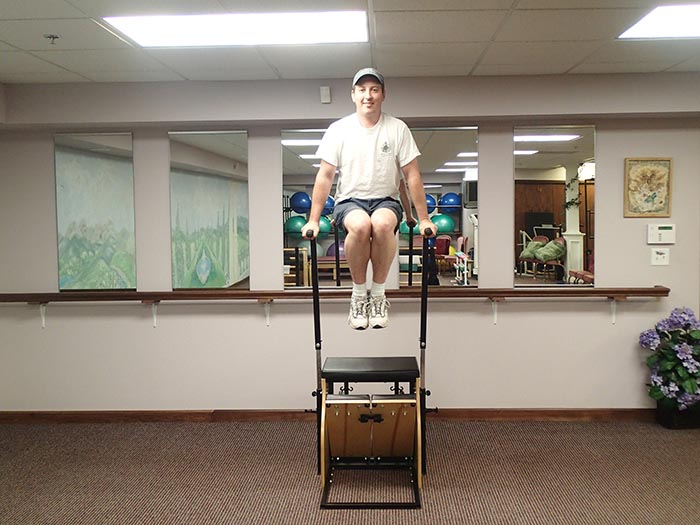 Knee Raises on Stability Chair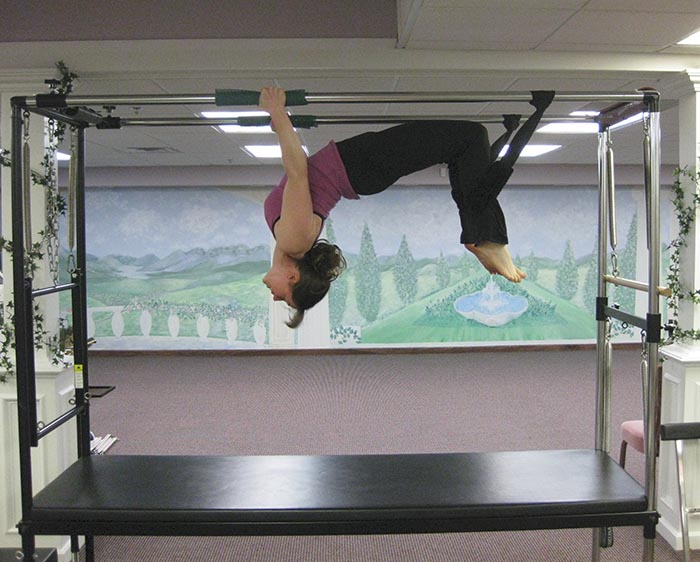 Spread Eagle on Cadillac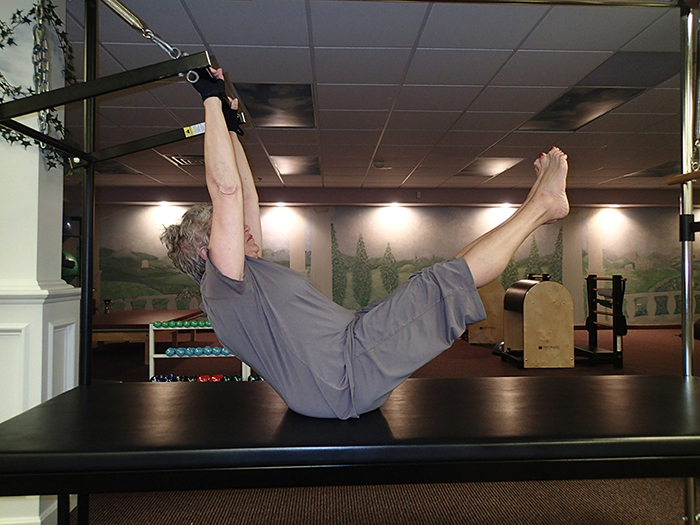 Teaser on Cadillac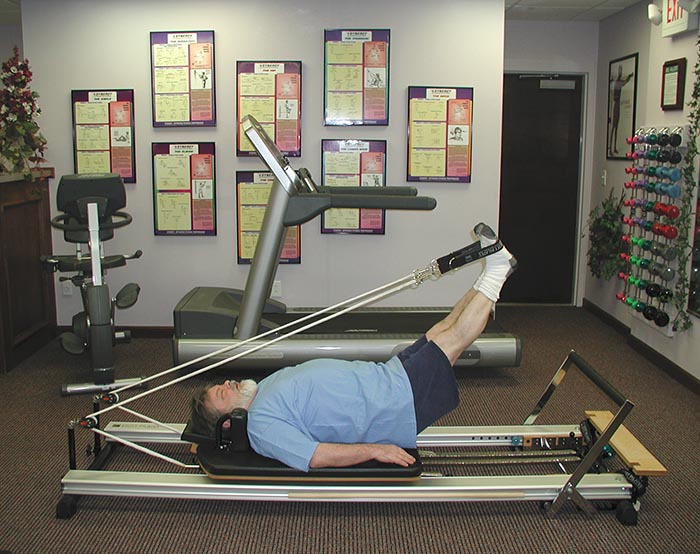 Lift- Lower on Reformer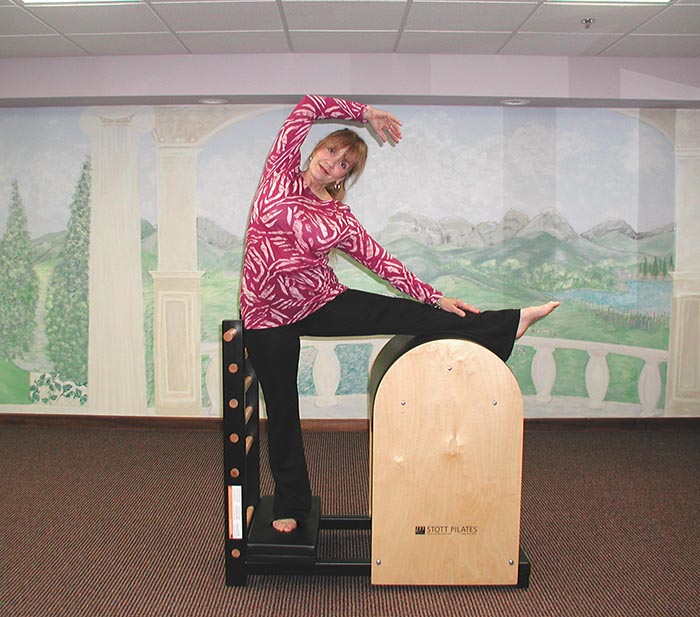 Ballet Stretch on Ladder Barrel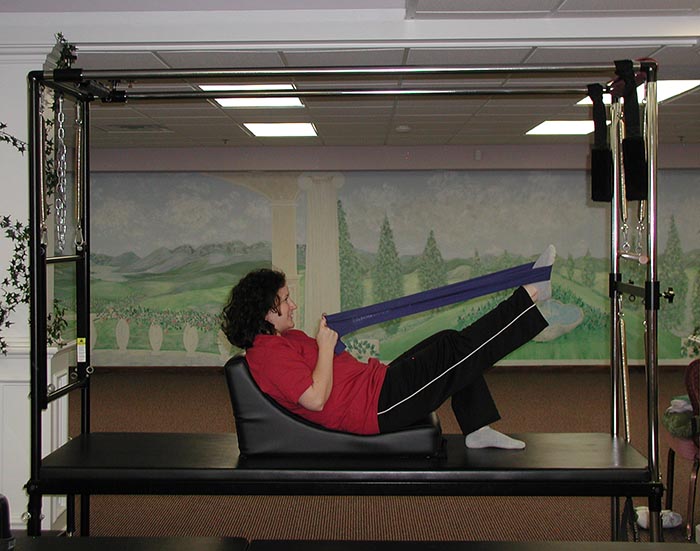 Leg Stretch with Flex Band and Spine Supporter on Cadillac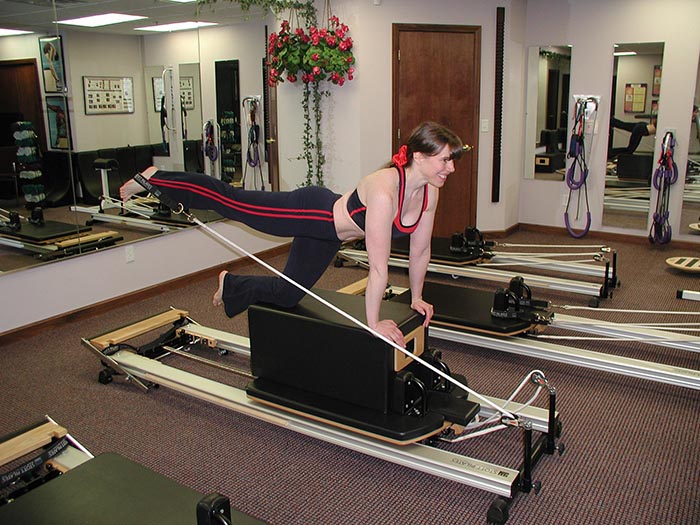 Kneeling One Leg Pull on Reformer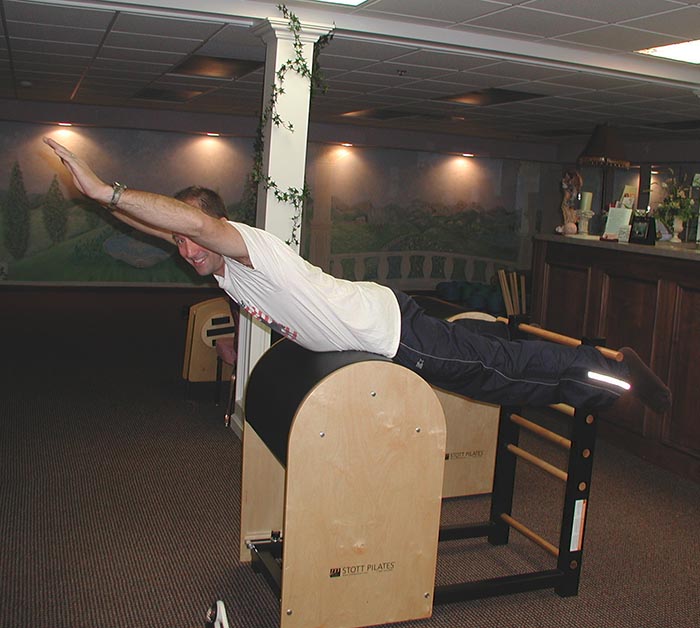 Swan Dive on Ladder Barrel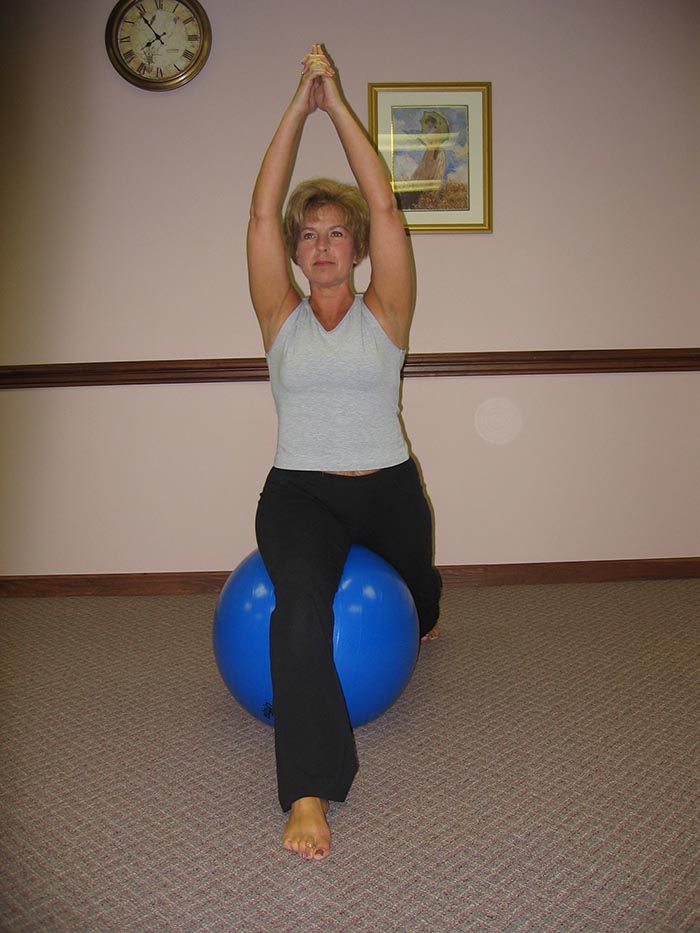 Stability Ball Stretch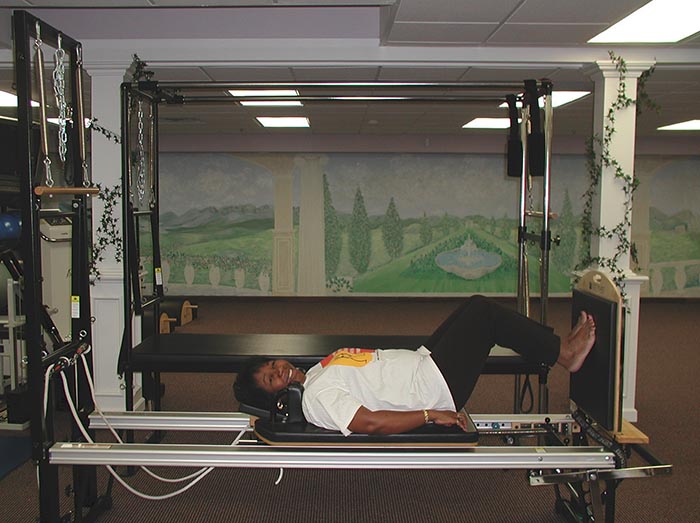 Jump board on Reformer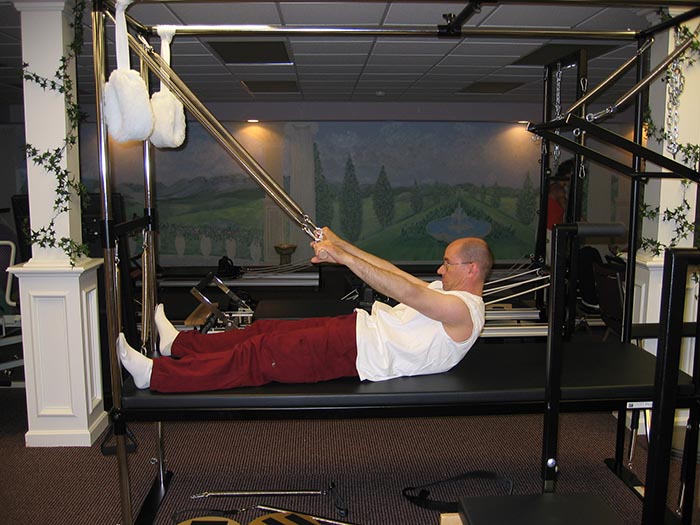 Roll Down on Cadillac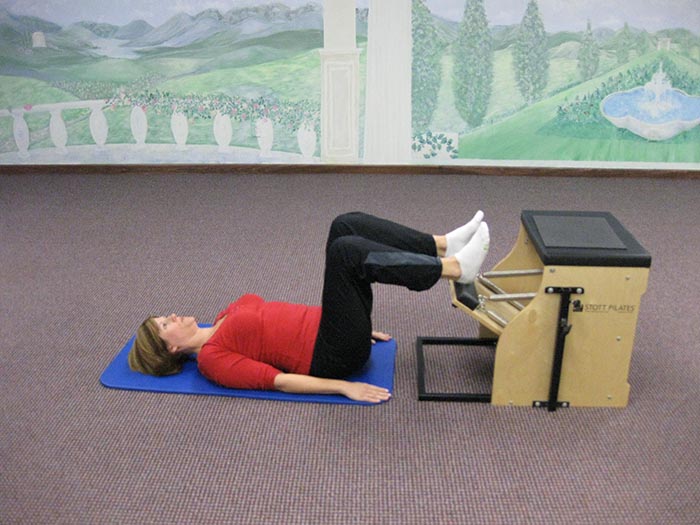 Hamstring Press on Stability Chair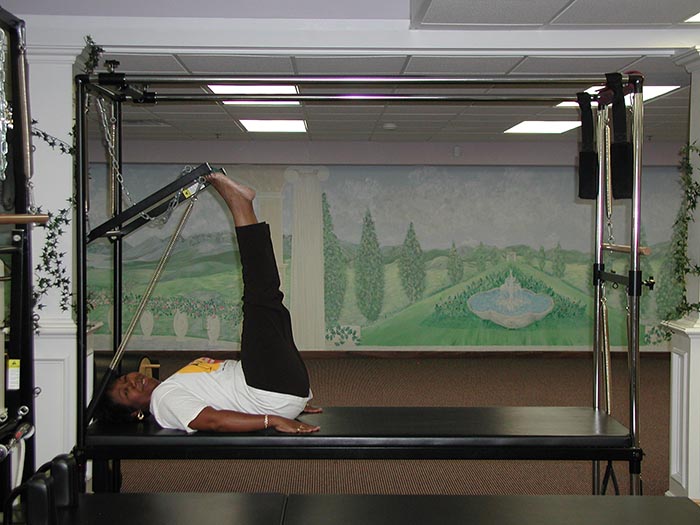 Leg Press on Cadillac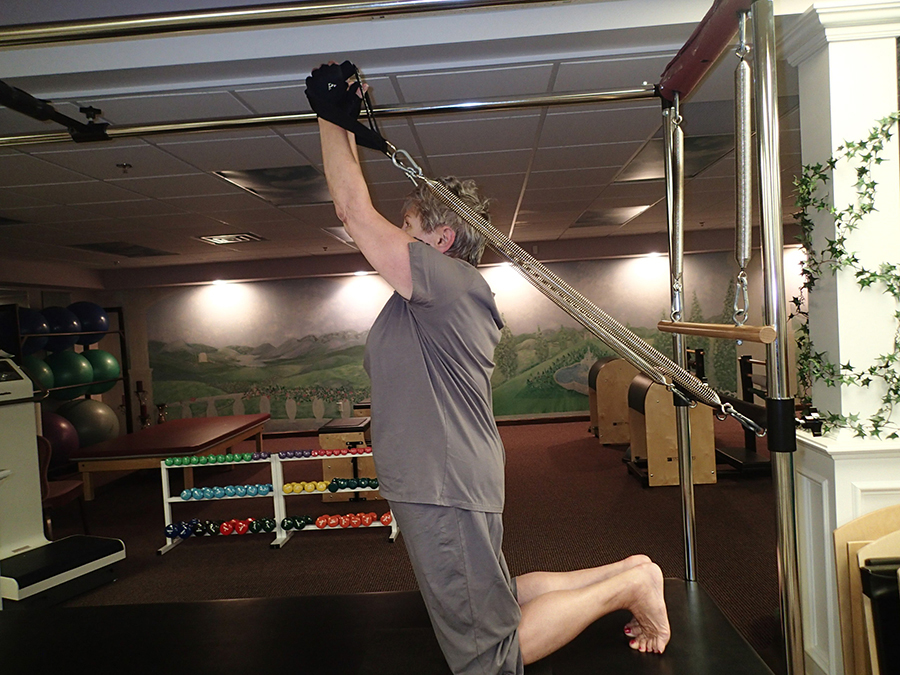 Arm Circles on Cadillac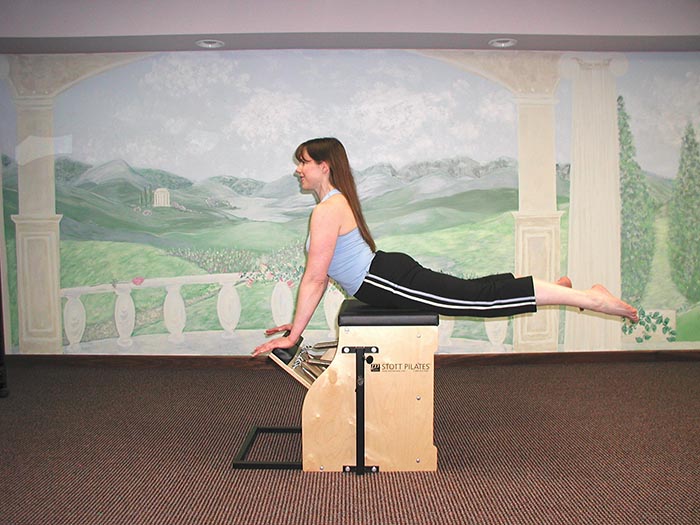 Swan Dive on Stability Chair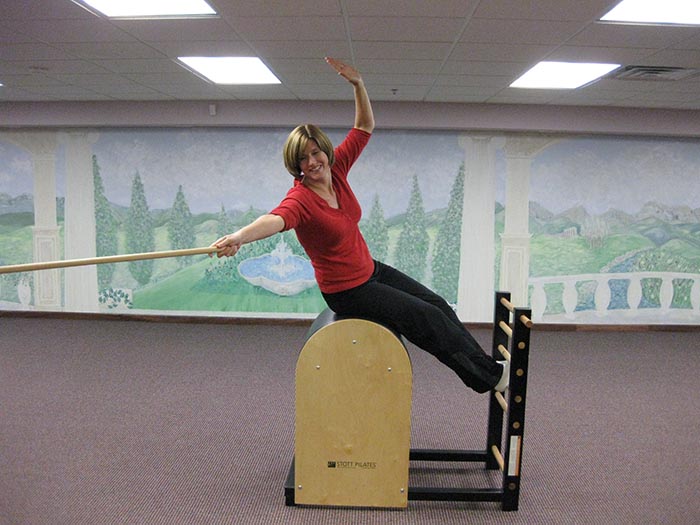 Cast a Spell on Ladder Barrel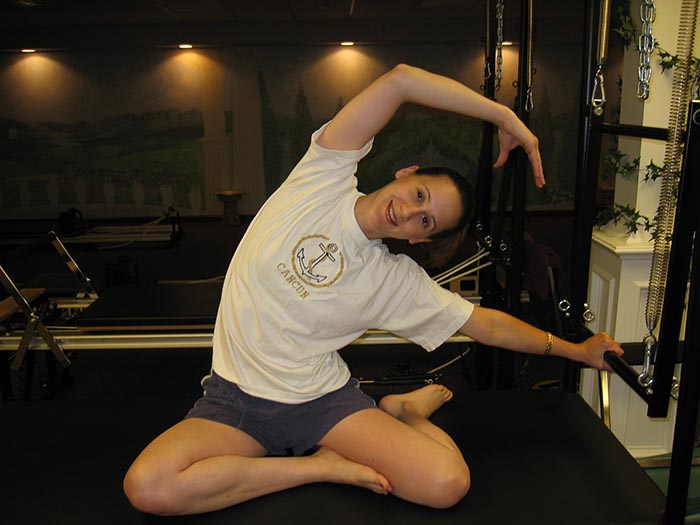 Mermaid on Cadillac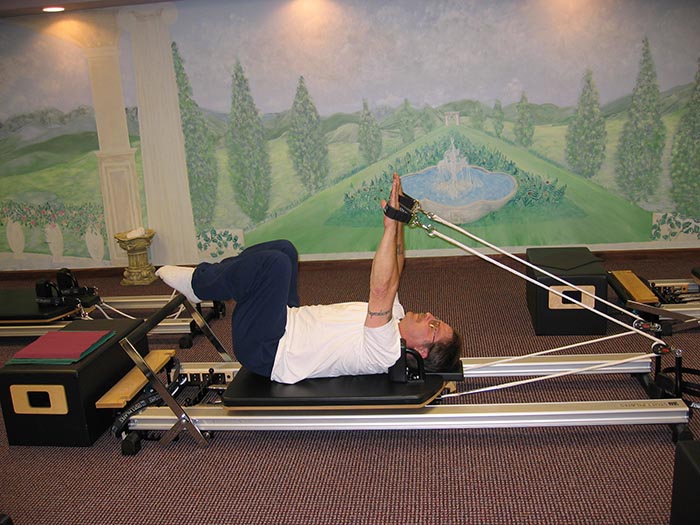 Mid Back Series Arm Work on Reformer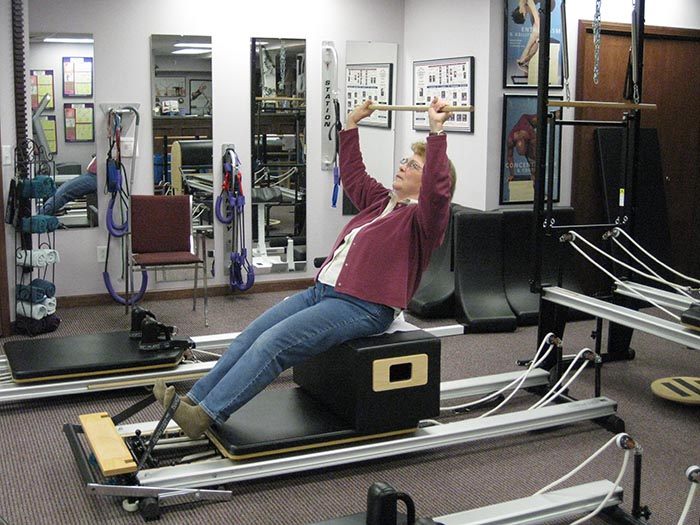 Straight Back on Short Box of Reformer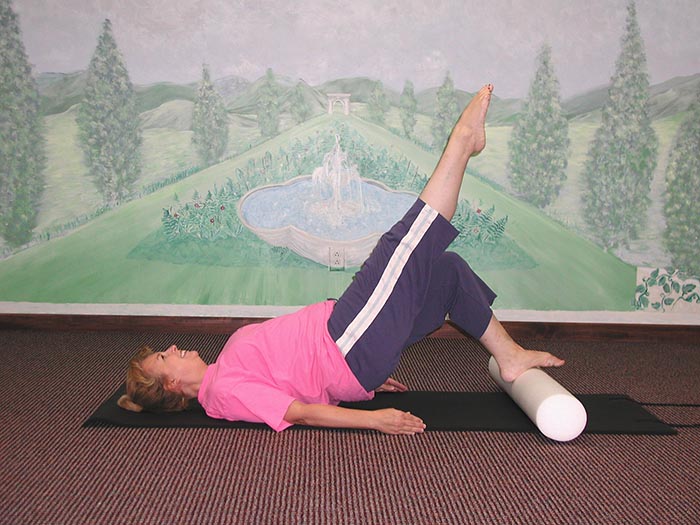 Hip Roll with Leg Extension on Foam Roller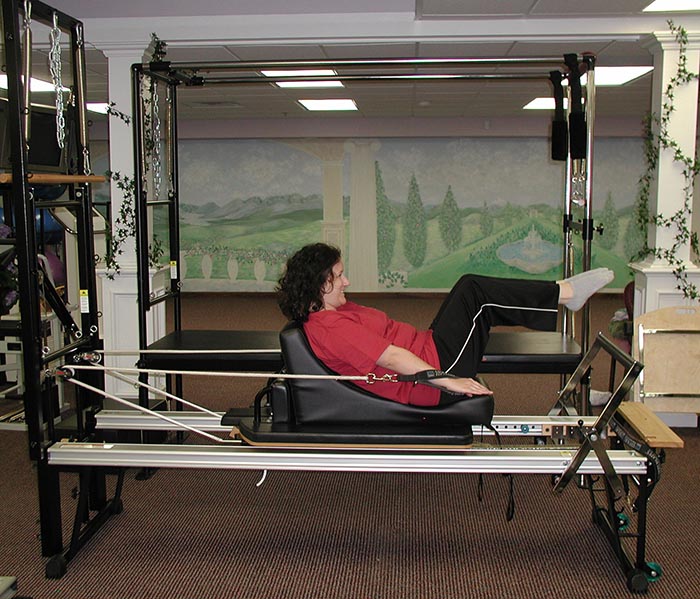 Hundred with Spine Supporter on Reformer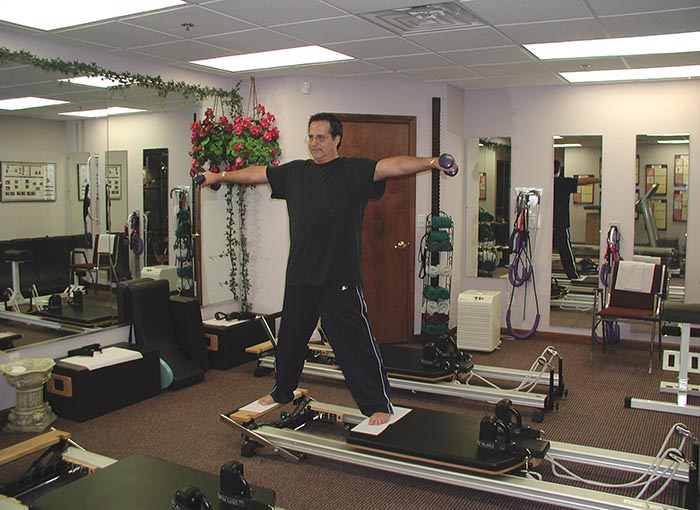 Side Splits on Reformer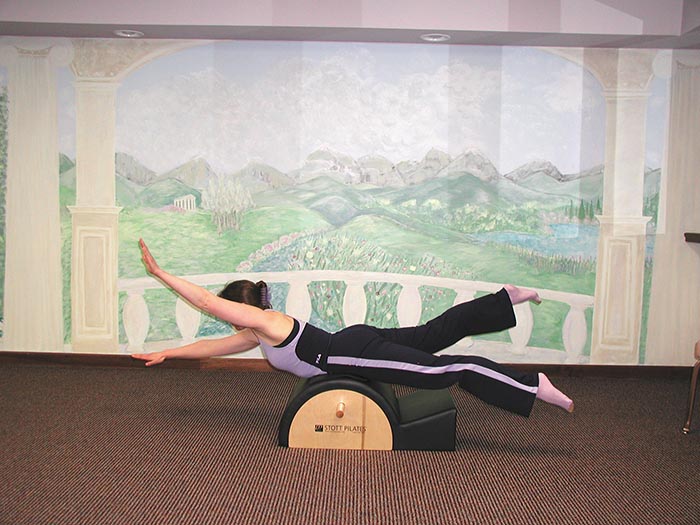 Swimming on Spine Corrector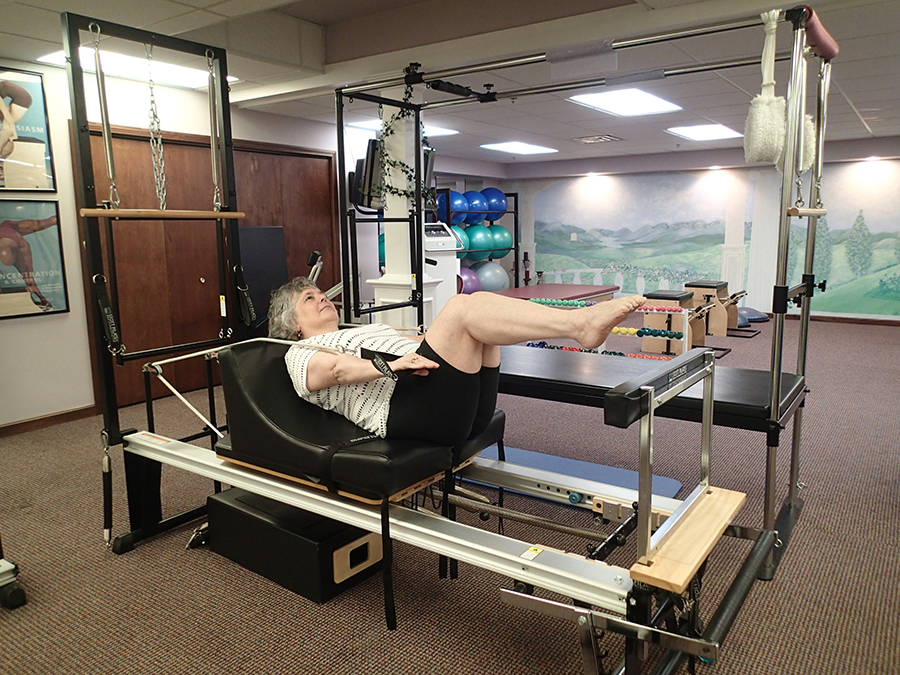 Hundred on Reformer with Spine Supporter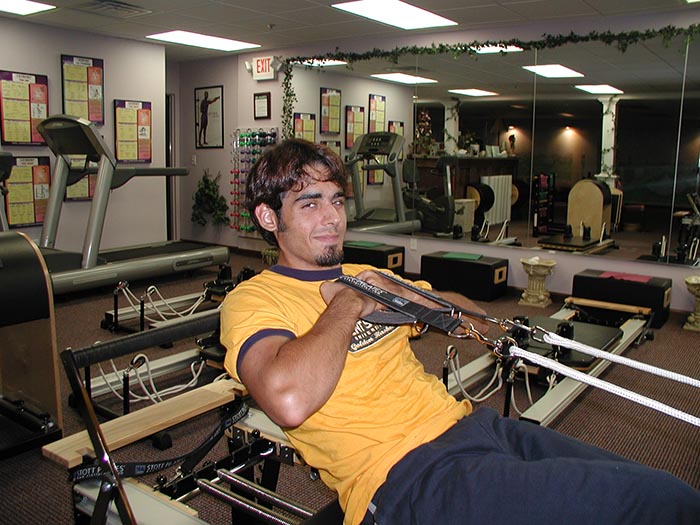 Roll Down on Reformer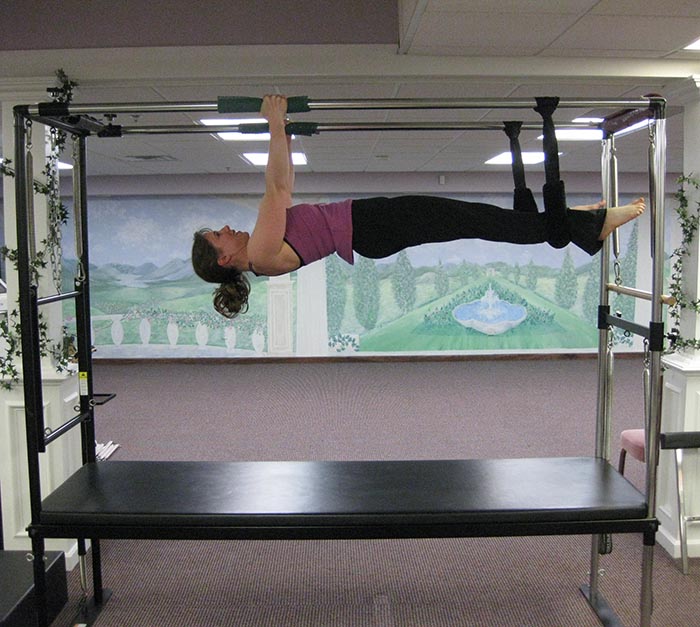 Pull Up on Cadillac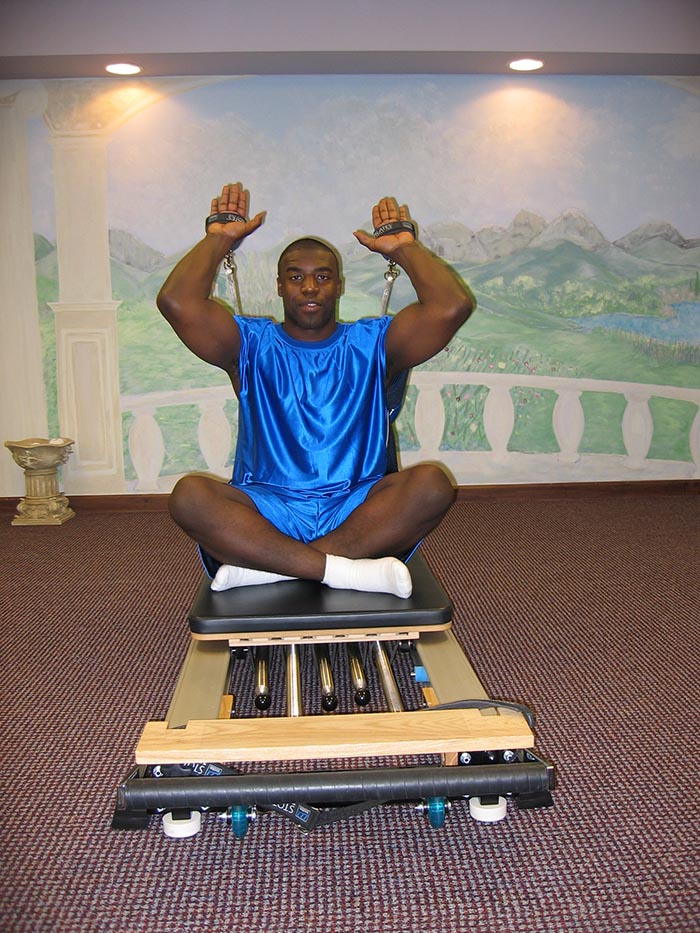 Salute on Reformer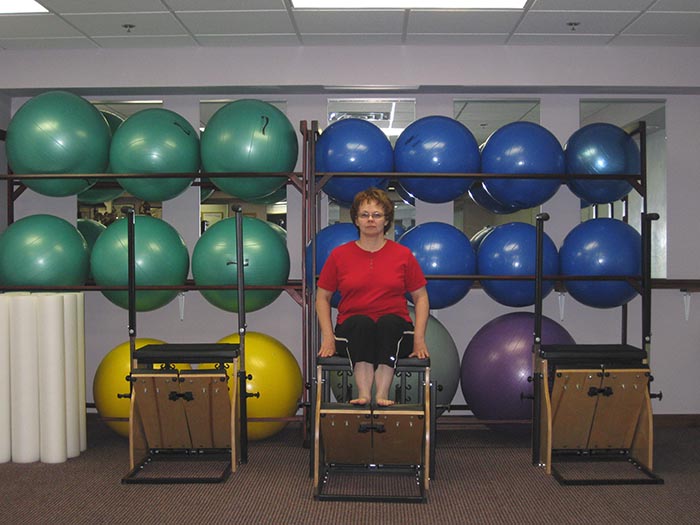 Footwork on Stability Chair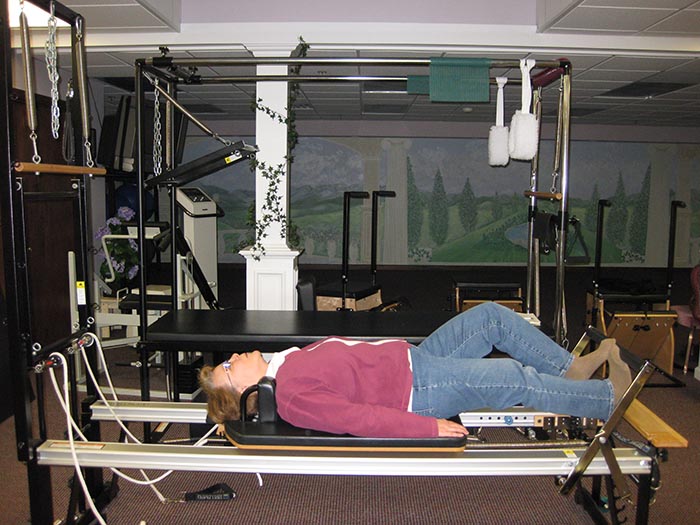 Running on Reformer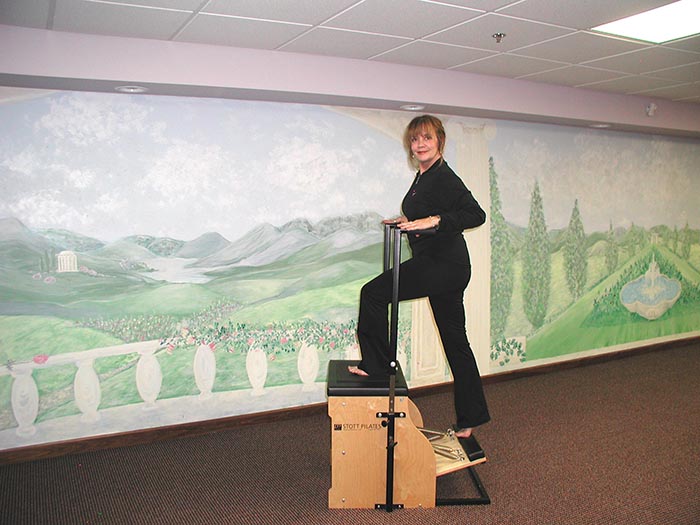 Forward Step Up on Stability Chair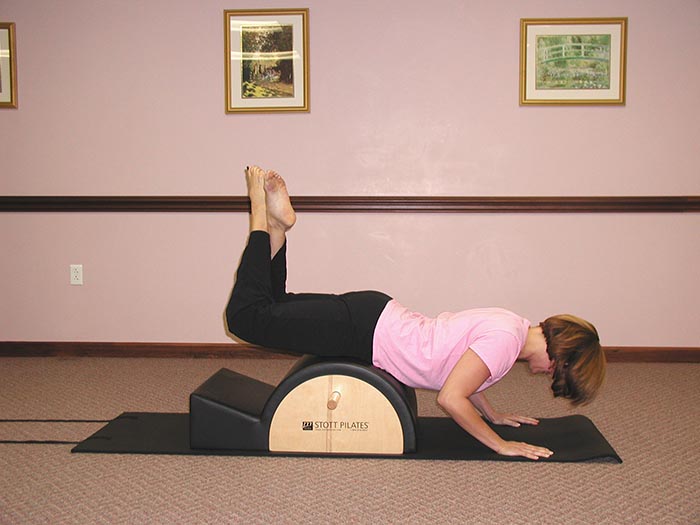 Grasshopper on Spine Corrector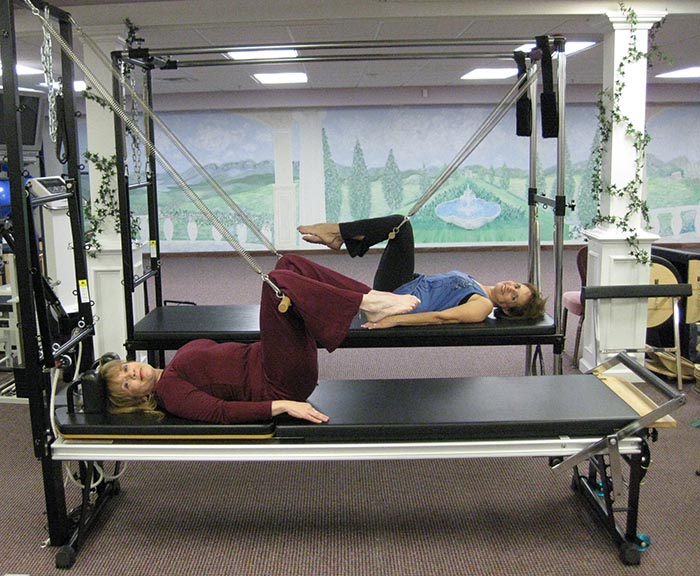 Airplane on Cadillac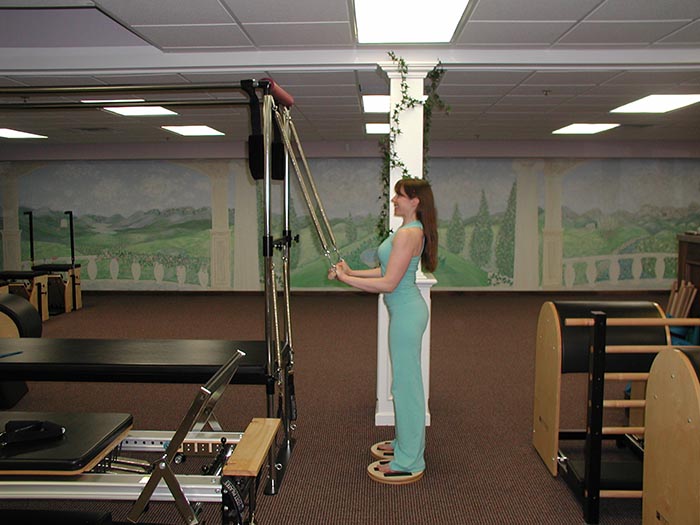 Press Down with Triceps on Cadillac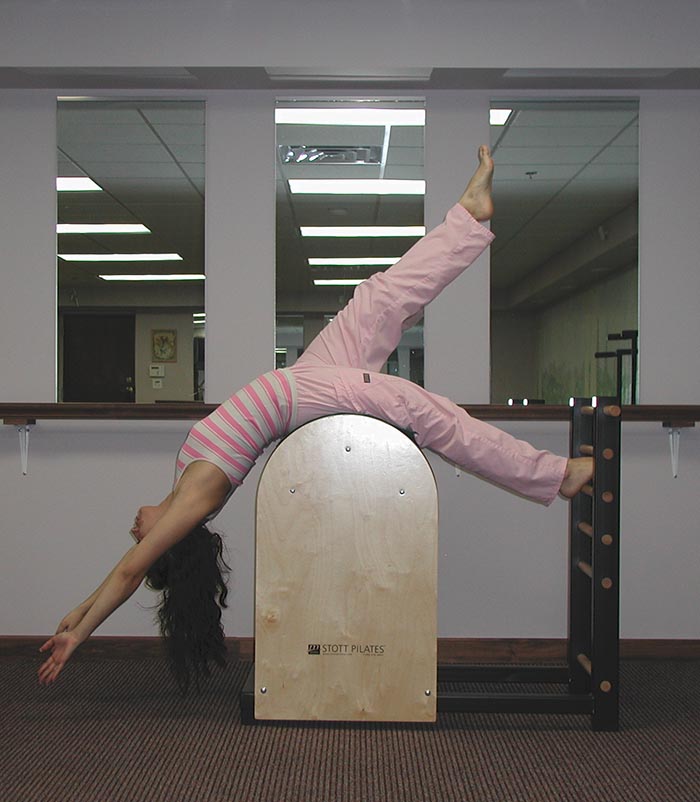 Tree with Arms Overhead on Ladder Barrel
Thigh Stretch on Cadillac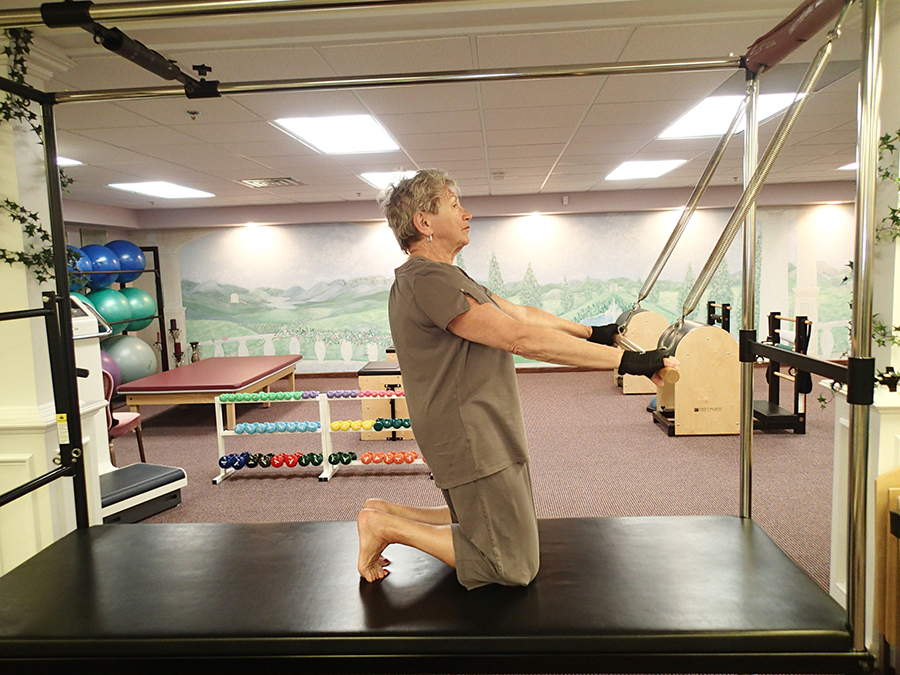 Thigh Stretch on Cadillac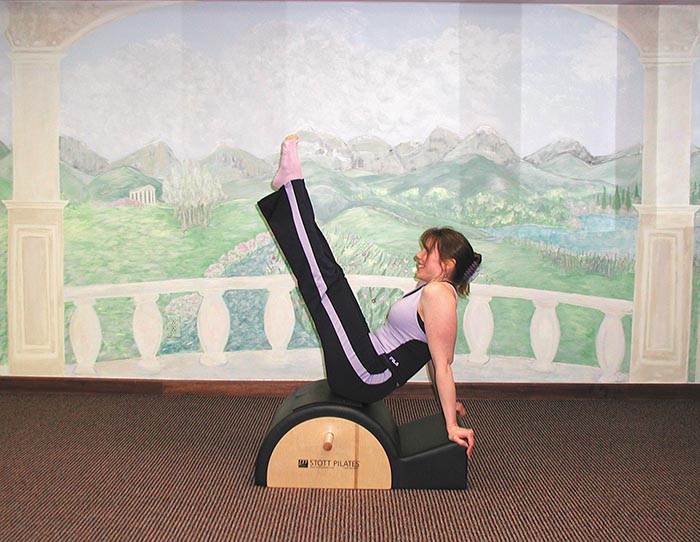 Teaser on Spine Corrector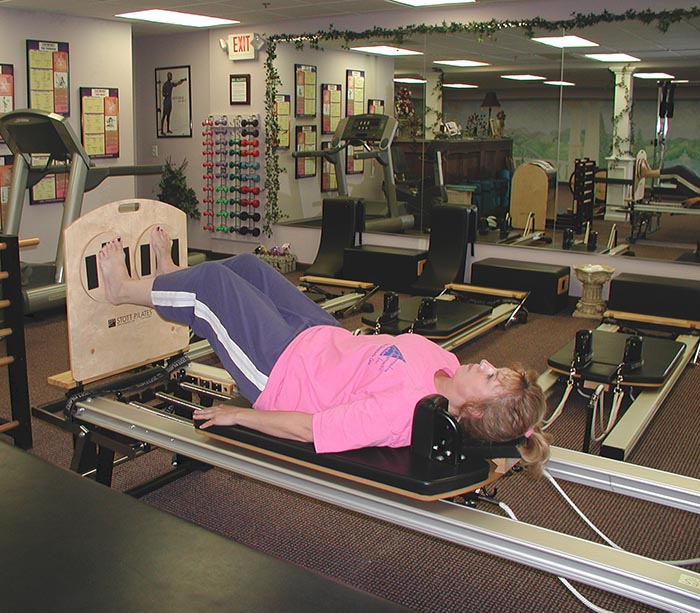 Parallel Rotational Discs on Reformer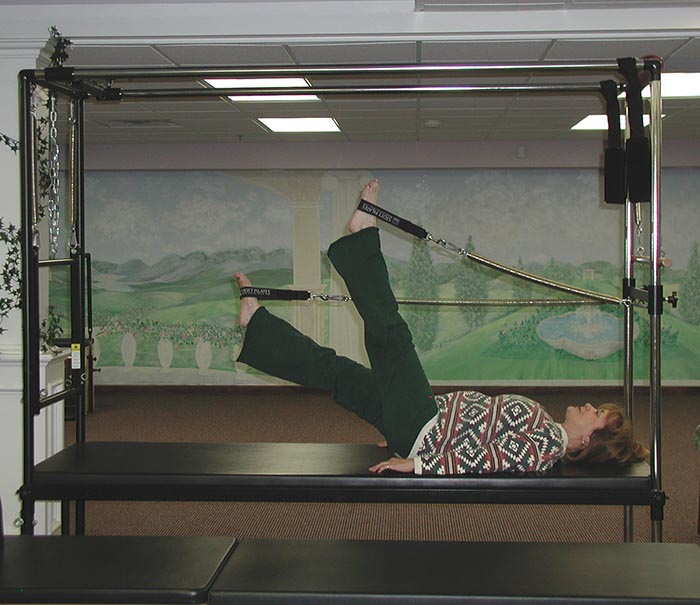 Walks on Cadilllac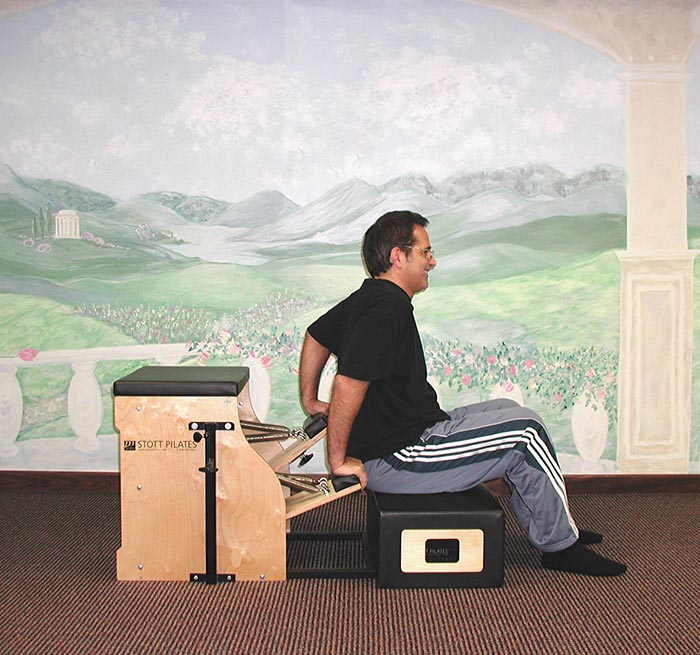 Triceps Press Sitting on Box with Split Pedal Stability Chair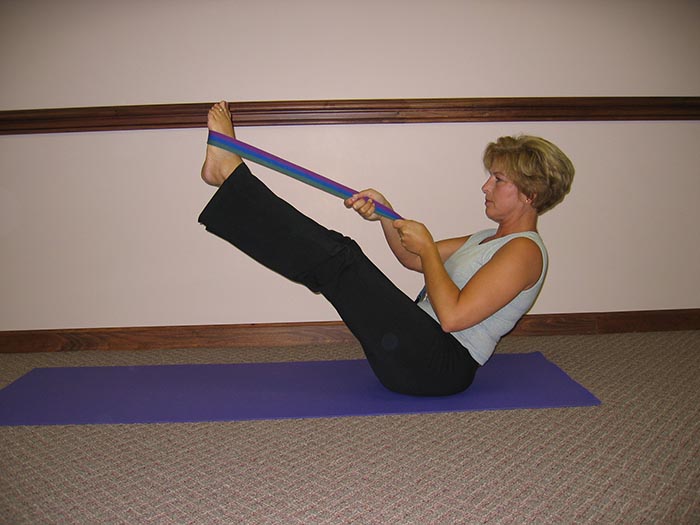 Modified Teaser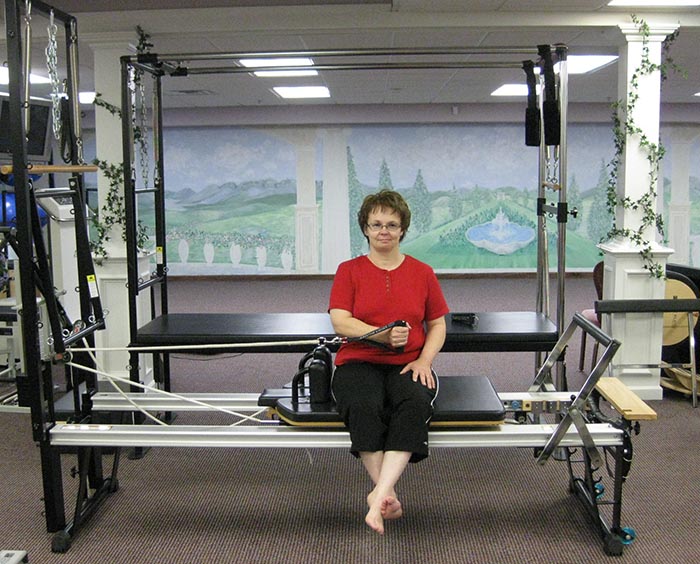 Internal Rotation Side Arm Work on Reformer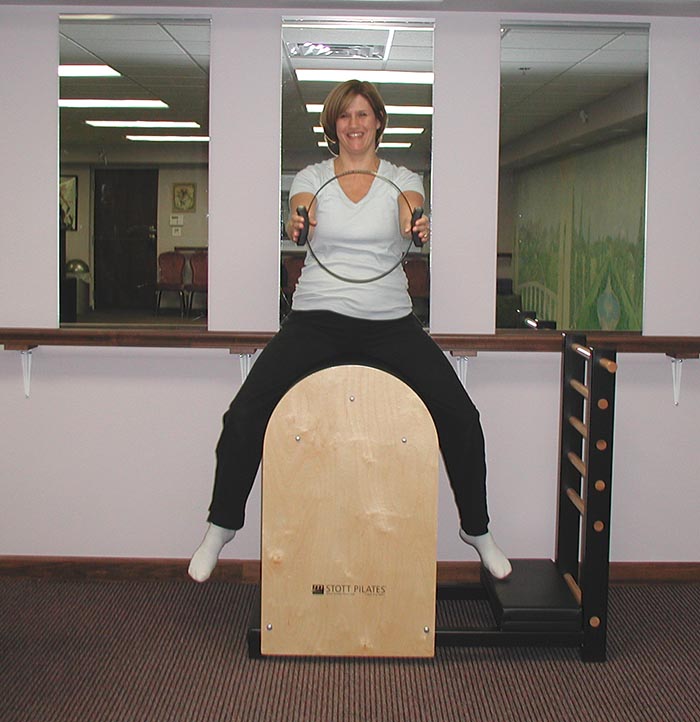 Horseback on Ladder Barrel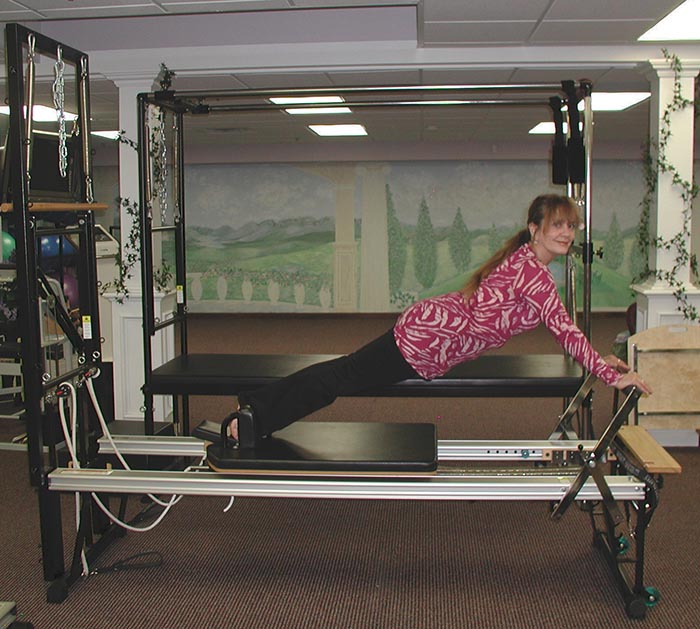 Long Stretch on Reformer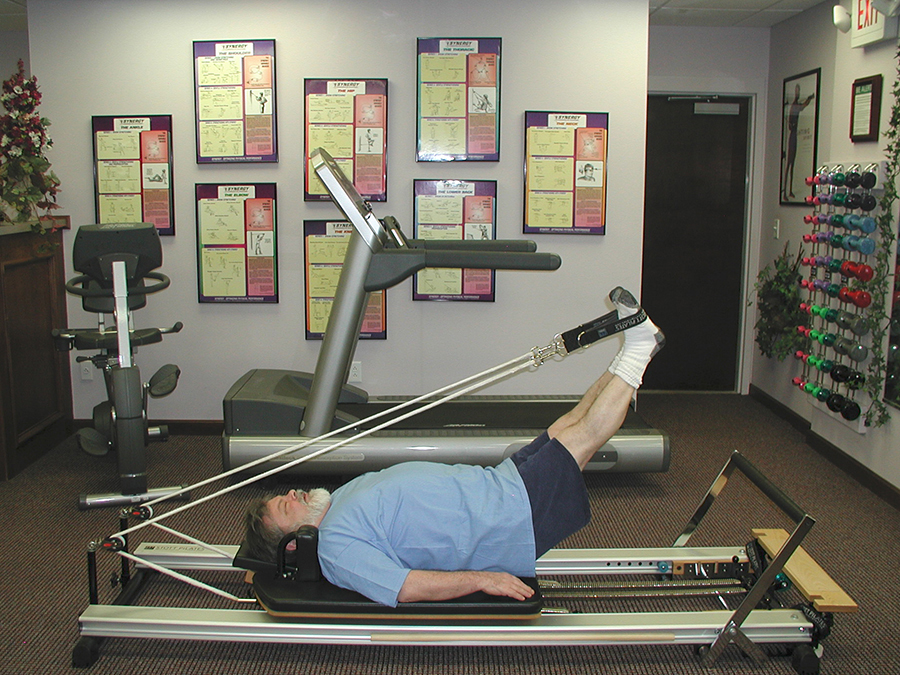 Lift and Lower on Reformer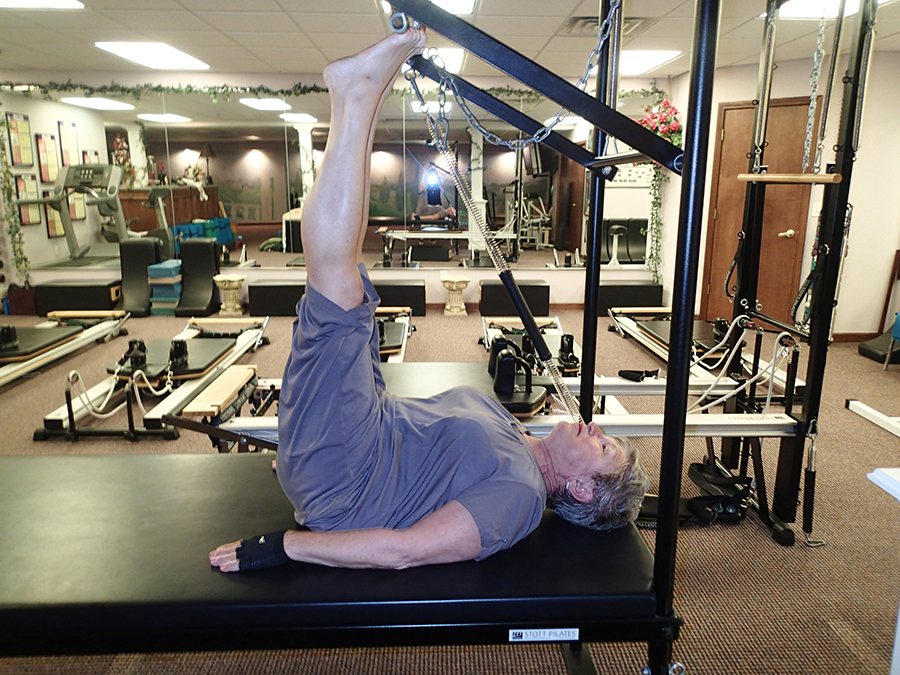 Leg Presses on Cadillac
You may have heard about Pilates (pronounced puh LAH teez), a form of fitness training, but how does it help your body?
Pilates combines strength and flexibility training, using exercises that tone and condition the entire body. Particular attention is paid to building and developing the area of the body called the "powerhouse," the core region of the body that includes the abdomen, pelvis, lower back and buttocks.
Pilates also creates a powerful mind-body connection, developed through proper breathing technique and concentration on smooth body movements to achieve better mental and physical health and reduce stress.
Some of the benefits of Pilates include:
Increases flexibility and agility
Develops muscle strength
Reduces stress
Provides effective rehabilitation for injuries
Flattens abdominals and strengthens back muscles
Provides a gentle, low-impact, whole body workout
Increases energy, invigorates the body
Strengthens the mind-body connection
Alleviates back pain
Improves body posture and movement
Initially, our office provided traditional therapeutic exercise services to our patients. However, in 2003, we began offering the Stott Pilates repetoire to our patients, which has proven to be far more effective than traditional therapeutic exercises. The pilates rehabilitative exercise program has enabled patients of all fitness levels and ages to strengthen and tone muscles much faster and safer than traditional therapy had in the past. Patients enjoy pilates and are so pleased with their results that they often choose to continue pilates at the on-site studio after the completion of their rehabilitative therapy.
Pilates itself was developed in the 1920's by a German gymnast and boxer, who became a nurse, Joseph Pilates. Afflicted with many physical problems, he used pilates to assist hospitalized patients with their rehab exercises. Known as the premier pilates method world-wide, Stott™ pilates can be performed with or without equipment and is safe for everyone.
Pilates is the ideal method to strengthen and tone muscles, improve posture, strengthen the spine, flatten the stomach and improve flexibility. Pilates improves stamina levels, reduces stress and brings the mind in tune with the body.
We are a fully equipped facility with the following:
Reformers
Cadillac
Stability Chairs
Spine Correctors
Ladder and Arc Barrels
Pilates is a weight bearing exercise that improves strength and neuromuscular coordination. Safer than lifting weights with less tension and stress on the joints, Reformer exercises allow patients, especially those who experience pain with other fitness regimens to gently strengthen key muscles by providing adjustable resistance using spring tension.
The focus on muscular imbalances due to injury, postural problems or over straining makes pilates the ideal method to help train the muscles. Additional benefits include increased lung capacity, increased circulation through healthy breath patterns, strength, flexibility, coordination, posture and balance. Bone density and joint health also improve with this safe, weight bearing form of exercise, which also increases body awareness.
To find out more about pilates, find out if your health insurance covers pilates exercise therapy, or to make an appointment, call (330) 758-4446.
If you'd like to take group personal training on pilates equipment for general health and wellness, classes are offered through the pilates studio, Breath of Vitatlity.