Boardman, Ohio Back Pain Treatment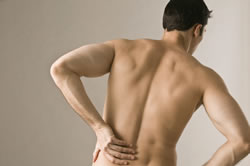 ​We see many people with mid and low back pain in our Boardman, Ohio chiropractic office, and we have great success in getting our patients out of pain with our gentle chiropractic methods, spinal decompression, various therapies and/or acupuncture. With an estimated 80 percent of the general population dealing with some type of back issue at least once in their lives, there's a good likelihood that the same (if not higher) statistic applies to those who participate in sports. However, when an athlete experiences back pain, the effects are usually compounded because this typically means that he or she will be unable to play their sport of choice, and if they do, they could end up in greater pain or more injured as a result.
In a piece published in the journal Sports Health, several studies were reviewed and analyzed to determine what effect, if any, chiropractic care had on low back pain in athletes. What they discovered after sifting through all of the research is that chiropractic adjustments and heat were "the most strongly supported evidence-based therapies."
In other words, based on the studies and their findings, the authors concluded that chiropractic care worked better than anti-inflammatory medications, muscle relaxants, and short and long-term physical therapy. Chiropractic care even provided more positive results in regard to pain management and greater ease when performing daily activities than medical care, soft tissue treatment, and several other common back pain remedies people typically use in an effort to feel better.
Additionally, chiropractic is a natural treatment option, which means that it won't negatively impact sports performance the way medications and other types of treatment can. That makes it a top choice when it comes to keeping you out of pain and in the game!
Dr. Denise Carradine is here to help you recover from back pain, whether it's related to a sports injury or not. She's been successfully treating back pain for over 25 years with a variety of different treatments. Give us a call in our Boardman, Ohio office today at 330-758-4446 to schedule an appointment, so we can help you get better, too!
Resources
Petering RC,Webb C. Treatment Options for Low Back Pain in Athletes. Sports Health 2011;3(6):550-555.